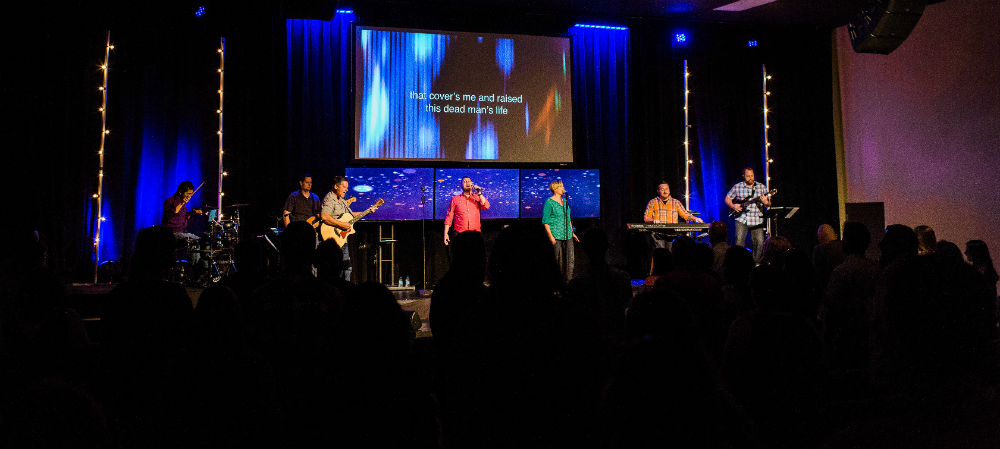 We're glad you're interested in checking out Village Church. It can be intimidating trying out something new, especially when you're not sure what to expect. Here are some answers to frequently asked questions about the church.
What should I expect the first time I attend Village Church?
You should expect a friendly, casual environment with some smiling, but real people. Our worship experience is designed to bring glory and honor to Jesus as we sing and hear his word preached. We are also passionate about making sure that when you attend our worship experience, Jesus is made known to you in a real and practical way.
What's the music like?
Well, to be honest we don't own a pipe organ. Not that there's anything wrong with that, but that's not us. Our live band usually consists of guitar, drums, bass, and keys. There are multiple styles and preferences in music and we recognize that, however, all of our music has the same theme – Jesus. We try to sing songs that are rooted in the truths of the Gospel, and can come from our hearts.
What does the pastor talk about?
The messages you'll hear at Village Church are always practical in nature but also based directly out of God's Word. We aim to present the ageless truths of the Bible in a format that's easy to understand, even if you've never been to church. Typically we go through a series of related messages from week to week, but they are always based on an extended passage from the Bible, or more often an entire book.
What should I wear?
We are much more concerned about what's going on inside of a person, than what they are wearing on the outside. The general attire does tend to be more on the casual side. If it helps you out, our pastors are usually in jeans. So just come as you are.
What about my kids?
Your children will love our preschool and children's areas! Children are a huge part of Village Church and we want you to know your children will be in a safe and exciting environment while you attend our worship experience. For more information visit our VillageKids page.
What are the people like?
Well, frankly, in many respects we hope we are a bit like you. We are just normal people enjoying life and facing struggles, and we don't have everything all figured out. But, we have found peace with God through Jesus, and it has radically changed our lives. We also hope that's something that rubs off a little bit as you spend time with us.
Can I invite my friends?
Of course and please do. Our goal is to be a welcoming environment for people who are curious about Christianity or who are seeking to belong to a community of believers.
Will I be asked for money?
If you are our guest, we are grateful that you are here and do not expect you to participate in giving. However, we'd love for you to put a connection card in the offering basket so that we can get to know you better and send you more information about the church. Our members and regular attenders do participate in giving to the local church as part of our worship, as we demonstrate that Jesus is our greatest treasure.
How can I get involved?
As a new church, we would love to get to know you. One of the best ways to get involved would be to attend one of the Village Groups that meet during the week in homes around the area. You can find information about these by selecting "connect" on the menu above. We'd love to chat with you on a Sunday morning after our service. Or, maybe you'd just like to grab a cup of coffee sometime and talk about what God is doing in your life – that would be great too, just contact one of our pastors on the "contact us" page. The bottom line is, we want to get to know you, so let us know you're here!